Gregory Porter and Ledisi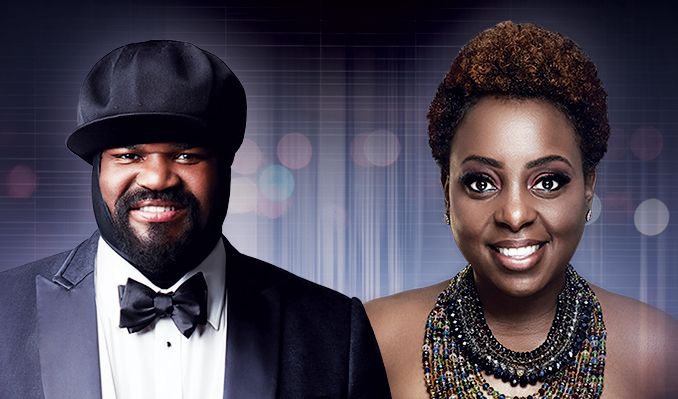 share
Event Information
This event was postponed from March 25th 2020 to August 13th 2020. Previously purchased tickets will be honored.
Read More
Artist Information
Liquid Spirit marks Gregory Porter's Blue Note Records debut, which arrives on the heels of two critically acclaimed indie label albums that quickly propelled Porter to the upper echelon of contemporary male jazz singers and earned him two GRAMMY nominations. Don Was, President of Blue Note, encouraged Porter to stay true to his artistic vision. "I firmly consider myself a jazz singer but I enjoy blues, black southern soul, and gospel," Porter says, "Those elements make their way inside my music. And I've always heard them in jazz."
The singer retains the same core musicians that accompanied him on his previous two discs – pianist and music director, Chip Crawford, drummer Emanuel Harrold, bassist Aaron James, alto saxophonist Yosuke Sato, and tenor saxophonist Tivon Pennicott. On a few selections, Porter complements that ensemble with trumpeter Curtis Taylor, and organist Glenn Patscha. Producer Brian Bacchus also returns, as well as arranger and associate producer Kamau Kenyatta. Porter describes the making of Liquid Spirit as very organic. "I didn't say, 'OK, this is a Blue Note record, let me get a Freddie Hubbard sound,'" Porter explains, "I didn't have any agenda with this record."
Porter wields one of the most captivating baritone voices in music today. It emits enormous soul that conveys both the emotions and intellect of any given song without relying on vocal histrionics. In The New York Times, Nate Chinen wrote: "Gregory Porter has most of what you want in a male jazz singer, and maybe a thing or two you didn't know you wanted." Jazz singer Dee Dee Bridgewater praised Porter in the pages of JazzTimes by saying, "We haven't had a male singer like him in a long time. He's such a wonderful writer. He tells these great stories."
Indeed Porter has an amazing gift for writing poignant songs based upon personal experiences with a relatable and emotional immediacy. Even more, his hooky melodies penetrate instantly. Recommencing with the water analogy that characterized his debut disc, Porter sees Liquid Spirit as a logical progression in his burgeoning discography as it touches on some of the same themes, particularly the highs and lows of romance, his childhood, and socio-political observations. More pointedly, he views the titled-track, a rousing, hand-clapping gospel-jazz romp, dealing with replenishing "thirsty" listeners with more substantial music, as the flipside to last year's "Bling Bling," a blistering song on his previous album Be Good on which the protagonist had so many artistic gifts to give but no one to give them to.
In part, "Liquid Spirit" is based upon Porter's reflections on new fans, worldwide, who come to him saying, "Where have you been?" or "How come I've never heard you before." "Not saying that I am 'what is,' Porter says, "But I think maybe what I'm doing is what people actually want to hear. There are some people who want that liquid spirit – a soulful, thoughtful sound – and they haven't been getting it."
Similar sentiments occur on "Musical Genocide" and his riveting take on the Ramsey Lewis-Dobie Gray classic, "The 'In' Crowd." On the former, Crawford hammers a dark rhythmic figure against James' bluesy bass accompaniment as Porter declares his refusal of accepting the insistent squashing of quality, diverse music and culture by a mainstream in favor of disposable, homogenized pap. The latter showcases Porter sauntering through a finger-popping groove as he croons Billy Page's lyrics about finally breaking into the big leagues of so-called A-listers. "I did this song in a way of being ironic. I'm so inclusive; I'm so against exclusive groups," Porter says, again reflecting on his ascending cosmopolitan fame. "Someone asked me recently if I felt like I was in the 'in crowd' of jazz. I answered, 'yes and no.'"
Liquid Spirit contains two other standards – a testifying reading of Abbey Lincoln and Max Roach's "Lonesome Lover" and a pithy treatment of Sammy Cahn and Julie Styne's "I Fall In Love Too Easily," which features Porter alongside Crawford's gorgeous piano accompaniment and James' emphatic bass counterpart. "On each record, I try to pull something from the people, who deeply influenced me. ["Lonesome Lover'] is me giving some love to Abbey Lincoln," Porter explains. Regarding "I Fall in Love Too Easily," he reveals that it's just one of those standards that speaks to him on a deeply personal level. "I can live in that song. It's a hard song to sing but given my personality, I'm cool being vulnerable."
Porter's "heart-on-the-sleeves" lyrics play an integral role in his appeal. Somehow heartache fuels some of his most winning compositions. Such instances happen on the misty-eyed piano-duo "Water Under Bridges," a lament dealing with challenges of shifting past a broken relationship. While "Movin'" boasts a peppy exterior thanks to its funky groove, the lyrics tells a different story as the protagonist tries to win back a fleeing lover.
Three of Liquid Spirit's best yet bruised moments are "Wolf Cry," "Brown Grass," and "Hey Laura." "Wolf Cry" is another piano-voice duo as Porter croons from the perspective of romantic martyr, who constantly comforts a friend, who never reciprocates the amorous affections but instead routinely returns to a bad relationship. On the somber ballad, "Hey Laura," Porter, on the brink of breakup, pleas for tenderness from a nonresponsive lover, while on the melancholy "Brown Grass," Porter admits to leaving a solid relationship for something that initially seemed more fulfilling but quickly revealed to be the very opposite.
Romance's sunnier side radiates on Porter's carefree "Wind Song," a subtly whimsical gem in which he sings of everlasting love and on "No Love Dying," which deals with the same conceit as Porter declares gently about his longstanding love regardless of unforeseeable bumps in the road.
Porter shares his socio-political insight on the startling ballad "When Love Was King," a tribute to Dr. Martin Luther, Jr. and on the gritty jazz-funk workout, "Free," on which Porter reflects on the struggles of a working-class family that strives to make things better for their children.
* * *
Raised in California, Porter's mother was a minister, and he cites the Bakersfield Southern Gospel sound, as well as his mother's Nat King Cole record collection, as fundamental influences on his own sound. Porter began singing in small jazz clubs in San Diego while attending San Diego State University on a football scholarship, where he played outside linebacker. Eventually it was music that Porter chose to pursue full-time at the encouragement of local musicians including his mentor Kamau Kenyatta.
Kenyatta invited Porter to visit him in the studio in Los Angeles, where he was producing flutist Hubert Laws' album Remembers the Unforgettable Nat King Cole. When Laws overheard Porter singing along while he was tracking the Charlie Chaplin song "Smile," he was so impressed with the young singer that he decided to include Porter on the album.
Another fortunate twist of fate was the presence that day of Laws' sister, Eloise, a singer who was soon to join the cast of a new musical theater production It Ain't Nothin' But the Blues. Porter had minimal theatrical experience but was cast in one of the show's lead roles when the play opened in Denver, and he eventually followed it to Off-Broadway and then Broadway, where The New York Times, in its 1999 rave review, mentioned Porter among the show's "powerhouse line up of singers." It Ain't Nothin' But the Blues went on to earn both Tony and Drama Desk Award nominations that year.
Porter eventually put down roots in Brooklyn, and in 2010 released his debut album Water (Motéma Music), which earned a GRAMMY nomination for Best Jazz Vocal Album. His sophomore album Be Good (Motéma Music) followed in 2012 and earned him his second GRAMMY nomination for Best Traditional R&B Performance.
Despite having now recorded or shared the stage with the likes of Van Morrison, Wynton Marsalis, Herbie Hancock, Dianne Reeves, Nicola Conte, and David Murray, Porter remains grounded and humbled by all the new accolades. "Sometimes I haven't had a chance to absorb and enjoy some of the audiences that I've been in front of, especially some of the icons of the music like Wynton and Herbie," Porter says, "And they give me so much open-arm love; I couldn't fathom that two years ago." With the release of Liquid Spirit, Porter's soaring career will surely ascend even higher.
Read More
*Service and handling fees are added to the price of each ticket.
Thu, August 13, 2020
7:00 PM
$29.00 - $149.75

All Ages